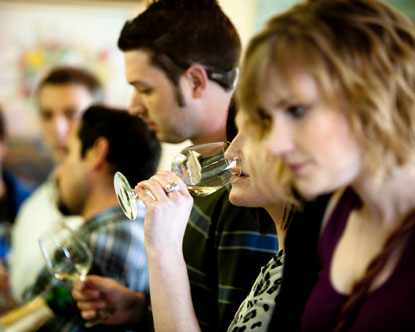 Napa Wine Tours– A beautiful journey into the dreamland of world's best wineries
A tour to Napa valley is a dream come true to every food connoisseur. It is an exciting holiday destination and also America's capital of gourmet wine and food. For a wine connoisseur and person who love exotic holiday destinations, a Napa wine tours is an exciting trip that should be included in his/her travel itinerary.
Napa valley is located in California. It is the second most visited tourist destination after Disneyland. This valley offers panoramic views and is one of the best places to unveil the tradition of wine making. This would be a unique opportunity to outlook the best wineries in the world surrounded by natural beauty, luxurious spas and the finest restaurants. A Napa valley tour also provides you a chance to pay a visit to the historic treasures of Napa valley like Beringer Vineyards, the oldest operating winery in this valley and also visit the home of Christian Brothers which is now the American Culinary Institute.
To know more about the cutting edge technology in making wine, you must also visit the Robert Mondavi winery. It is suggested that you customize your tour package, if you are really looking for a uniquely personal experience at wineries. This option can provide you a chance to meet a few family-owned wineries of Napa valley, where the owner can guide you and provide information about the vineyard and the process of making wine.
Napa Wine Tours also offer a single day package and you also have the facility to extend this trip into an enjoyable stay at Napa valley. Several types of accommodations can be availed and accommodation can be arranged easily with the help of a tour guide. If you are planning for a long Napa valley tour, then you must visit beautiful small quaint towns such as Yountville, Oakville, Calistoga, Rutherford. Calistoga is famous tourist spot for medicinal waters and spa treatments.
One of the latest tourist attractions: American Center for wine, Arts and Food, where you get a chance to know about the latest wine making techniques and can also purchase the best wine. Napa Wine Tours is a must for those who want to make a career in wine industry. A Napa wine tour also offers a peak into the world of wineries and the processes involved in making a glass of delicious rich wine. These winery tours offer tasting sessions of wine, where a winery personnel can help you understand the color, texture, aroma and the taste of wine.
A Napa Wine Tours is a must for a regular tourist and also for people who are seriously interested in making a career in wine industry. Although Napa valley is fabulous throughout the year, the best time to plan your trip to this wine country would be during the season of grape picking and crushing. To make a reservation and pricing go to our website or give us a call. 707 294-0007. https://myprivatedriver.net